The consumption and usage of water in our daily life is a very essential part of living. If this is disturbed due to any reason we aren't able to conduct the rest of our activities.                                
Realfix maintenance services are one of the trusted plumbing services and plumbing maintenance in Dubai in areas such as Victoria Heights, Jumeirah Islands, Emirates Hills, Dubai Marina, Al Furjan, Palm Jumeirah, Dubai Hills. Not only do we perform quality service but also offer them affordable rates.
What exactly are the issues?
Blocked WC, drains, showers, sinks

Leaking water in ceiling, walls, and floors

Corroded or faulty flexible hoses

Broken fixtures in WC, washbasins, and bidets

Faulty mixer taps and gate valves

Blocked or clogged floor waste pipes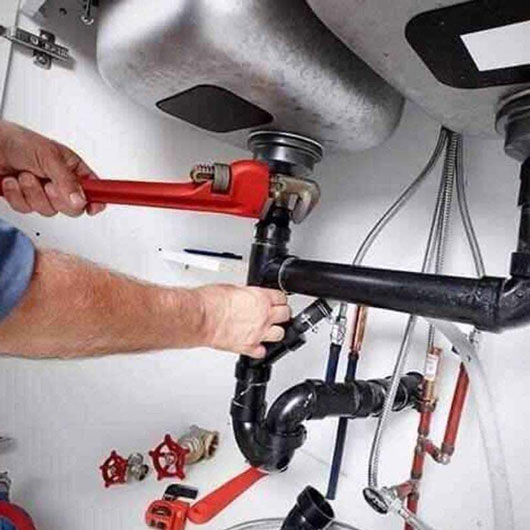 Low water pressure or even sometimes even no water is caused up to due to choked-up pipelines. Sink draining issues & running toilets are just about every home problem. Severe yet often ignored issues like rusty taste in water are also a problem that every household faces once in a while. 
There are also many other issues like these that are quite common to every household. A good quality plumbing service and plumbing maintenance is the only solution to all the above problems.
Kitchen Sink Plumbing
The kitchen sink is one of the most important part for the kitchen while cooking. Regular cleaning of utensils with some little amount of left-over food in it gets stuck in the sink and the pipeline, resulting in the sink getting clogged and damaged. This task is very easy for our plumbing services.
Toilet Plumbing Repair
Our daily usage of our toilets without doing the maintenance of it will cause temporary or permanent damage to the toilets. Repairing the toilets can be a very difficult task to complete and hence require some amount of professionalism. Our plumbing services are one of the prominent toilet plumbing repair solutions for you.
Bathroom Plumbing Services
Regular usage of the bathroom will affect the pipeline or sink, maybe get it clogged or damaged. Bathroom sink if once badly effect or damaged cannot be recovered or repaired. With all the other services like kitchen sink plumbing and toilet plumbing repair, we also help with bathroom sink drain repair.
Plumbing Maintenance
Most people think that plumbing problems occur once in a while. No!!! They don't if you use good plumbing maintenance services preventive measures. If you choose our plumbing services we can guarantee that you won't be disturbed by any such issues for a long time.
Local vs Realfix
We not only make our customers happy with quality services but we also offer services at reasonable rates. Local services may or may not be cheap but they do lack quality plumbing services. We are sure you will go for quality service over local ones. We also offer variety in our services with plumbing maintenance fixing all the issues and problems in just one go.
Effective Services
Since the services we offer are taken care of by a well-equipped & dedicated team that always guarantees a service that leaves a long-lasting effect. So that you need to waste any time in the future for such plumbing problems. We are one of the most authentic service providers in Victoria Heights, Jumeirah Islands, Emirates Hills, Al Furjan, Palm Jumeirah, Dubai Hills.
Affordability
Issues related to plumbing & pipelines tend to get worse with time. Our services act as a quick & permanent fix to these problems. Which automatically assures saving your time & money at the end of the day.
Hear what our customers say…
I was need of kitchen sink plumbing and repair. The work was nice and the pricing was great if not lower than most plumber companies but the service was great! He left my bathroom clean and taking care of. I HIGHLY RECOMMEND BEST!
– Khalid
I feeling that our pipeline might be clogged up, so I called Reakfix for bathroom plumbing services and the work they did was great. One of the best service calls of any type that I have received. The super-fast response, very happy with you guys!!! 
–  Zaynab.
The plumbers were very efficient & didn't disturb me with their work. I wanted a quick toilet plumbing repair to ensure our guest in the coming days won't have any problem. I would rate 4.5 out 5 stars to the plumbing services.
– Omar